Detoured: The Messy, Grace-Filled Journey From Working Professional to Stay-at-Home Mom is now available where books are sold!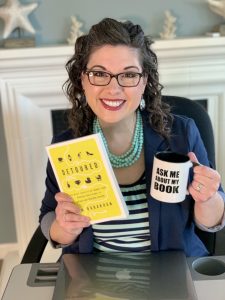 From Jen: "Detoured is the book I wish I would have had when I resigned from my teaching career to stay home with my son. No one shared with me that staying home can be isolating, or that I would grieve the loss of my career and my identity that was wrapped so tightly around my job title. I longed for someone or something to show me how to find contentment and peace with my decision- and to let me know I wasn't alone in what felt like a very lonely time. My prayer is that this book gives moms the comfort they need during the most meaningful detour of their lives."
From the back cover of Detoured: Former marketing executive turned third-grade teacher, Jen Babakhan never expected her transition to stay-at-home mom would bring feelings of grief and loss. She felt God was calling her to be home with her newborn son, and she wanted to be with him—yet she felt conflicted about giving up her career.
Detoured chronicles the often-bumpy path Jen took to contentment and peace in her new role at home.  She honestly shares the struggles and joys of being home, and the truth she uncovered about "having it all."  She invites you to walk beside her on this journey and find:
a new confidence and peace in your decision to place your career on hold
an invitation to discover your true identity that has nothing to do with your job title
a sense of community and the knowledge that you are not alone in your motherhood journey
Stay-at-home motherhood isn't easy—but it can be the most beautiful detour you ever take.
What others are saying about Detoured:
"Motherhood changes work-outside-the-home mothers in ways that are hard to put into words. Yet if anyone has beautifully captured the before and after of a career "detoured" by family, it's Jen Babakhan. Has your plan for the perfect work/family balance fallen apart? Are you plagued by worries that you'll lose yourself as you pour out your life for others? Jen understands. With tender confessions and hope-filled encouragement, Jen's words will be a soothing balm to your soul. She reminds all of us moms that the truth of God's provision and care for us—and our kids—is something we can depend on. Through these pages you'll discover the joy of living the fullness God intended. It's a wonderful book, and I already have a list of friends I'm eager to share it with!"
—Tricia Goyer, mom of ten and USA Today bestselling author of 70+ books, including Calming Angry Kids
"This is the book I wish I would have had when I left behind a news career in the city to become a stay-at-home mom on the farm. I've never regretted that decision, but I desperately needed the peace and contentment that Jen holds out to moms in her debut book, Detoured. With personal insights and helpful advice, this book beautifully celebrates the gift of motherhood."
—Jennifer Dukes Lee, author of It's All Under Control and The Happiness Dare
"Jen Babakhan has a life-changing message for anyone who has ever found herself experiencing an unexpected detour in life. Filled with audacious honesty, practical ideas, and deep wisdom, this is the kind of book that will help you regain your perspective and get unstuck from the false beliefs that are holding you back."
—Mandy Arioto, president and CEO, MOPS International
Purchase Detoured here!
Order Detoured and get the FREE 5 day e-Course, Detoured and Loving It here!