Now Available Where Books Are Sold!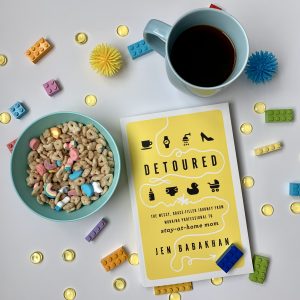 Who Knew Being A Stay-at-Home Mom After Having A Career Could Be So Hard?
When meetings, deadlines, and performance evaluations turn into diapers, dishes, and loneliness- what do you do?
Former marketing executive turned third-grade teacher, Jen Babakhan never expected her transition from working to becoming a stay-at-home mom would bring feelings of grief and loss. She felt God was calling her to be home with her newborn son, and she wanted to be home with him- yet she felt conflicted about giving up her career. Did her mixed feelings make her a bad mom?
In Detoured, Jen invites you to walk beside her as she travels the often-bumpy path to contentment and peace in her new role at home.
She shares honestly about the real struggles and joys of being home, and the truth she uncovered about "having it all".
In the pages of Detoured you will find:
A new confidence and peace in your decision to place your career on hold
An invitation to discover your true identity that has nothing to do with your job title
A sense of community and the knowledge that you are not alone in your motherhood journey
Stay-at-home motherhood isn't easy- but it can be the most beautiful detour you ever take.
Purchase Detoured here!