This mama always eyes me cautiously when I step under our patio cover to take the boys out to play. I smile at her, and wish I could somehow communicate to her how very much I understand her fear, and her overwhelming urge to protect her babies at all costs. The fears of motherhood are universal, and even though I know that I can trust God with my kids, I place them tightly beneath my wings, and cautiously scan the horizon for danger.
With a firm grip on the illusion of control, and a weak grasp of the true depth of God's love for each of His children, I try with my mortal strength to keep all things in line. It never works, you know. Something will come out of left field almost as if on cue, and smash my illusion of having any sort of control to pieces. What then? I'd like to say I wave the white flag of surrender, throw my hands up to Jesus and give it all to Him, but I don't.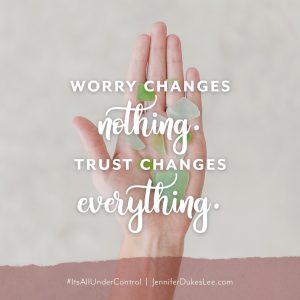 I stoop low instead, gathering the shattered pieces, and promising myself I'll just scan the horizon more intently next time, that I'll be prepared for what comes. We moms sure love this dance with control, don't we? We cling to it, all the while knowing that we are powerless to control the things we fear the most from happening. So how do we let go, while holding onto the truth of what matters?
My dear friend Jennifer Dukes Lee wrote a book for us. Those of us that just can't seem to let go, even though we know that the holding on is hurting us (and our families) more than helping. "It's All Under Control: A Journey of Letting Go, Hanging On, and Finding A Peace You Almost Forgot Was Possible(Tyndale Momentum, 2018)" releases today. It's the answer to our control problem, friends. She gets it, because she's LIVED it. She's been where we stand, with a family of her own, that she fiercely loves and yearns to protect.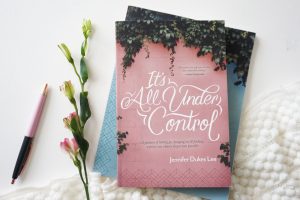 I know that by now you're wanting to know where, how, and when can you get this book- I've got answers!
You can get it TODAY, here, here, and here.
You can also WIN this book by entering the publisher's giveaway here. There's also a companion bible study to the book, that is perfect for your next group, or personal study.
I hope you'll love this book as much as I do- and you'll learn like I have, that letting go is sometimes the only way to live the life Jesus intended us to have.